Days of Service
Annual Days of Service are special days in the volunteer year. These days are proclaimed at the state, national and international levels to honor individuals or groups of people who contributed greatly to the cause of service and volunteerism. We hope that you will consider joining us and your peers in volunteerism around the world by engaging in service on the following days each year:

September 11th National Day of Service and Remembrance

9/11 Day is a chance to recapture the spirit of unity that swept the nation in the aftermath of the 9/11 attacks, while paying tribute with acts of service to those lost on September 11, 2001, and heroic first responders. The State Office of Volunteerism, Volunteer Delaware, and Volunteer Delaware 50+ have partnered with organizations across the state to provide safe and impactful volunteer opportunities for anyone who wishes to participate in this national day of service.
September 11th was designated a National Day of Service by Congress in 2009 and is led by AmeriCorps, the federal agency for volunteerism and national service. AmeriCorps partners with 911Day.org, the nonprofit organization that, together with 9/11 families, began the 9/11 Day observance more than a decade ago, and engages hundreds of nonprofit groups, faith-based organizations, schools, and businesses nationwide.

The State Office of Volunteerism is tasked with engaging Delawareans in service, volunteering, and civic action to tackle our State's most pressing challenges while lifting up all communities. Our office houses four programs working in tandem to support the service organizations, schools, and civic programs that engage thousands of Delaware volunteers to provide critical services to their neighbors and communities each year. Supported by the Governor's Commission on Community and Volunteer Service and a dedicated team of professionals, the State Office of Volunteerism is driven by a mission to empower and mobilize all Delawareans to volunteer and serve in their communities.
The 9/11 Day of Service is Monday, Sept. 11, 2023. We encourage you to host, partner, and engage in service on this day.
18th annual 9/11 Memorial Blood Drive set at Bally's Dover
Dover Motor Speedway and Bally's Dover will hold the annual 9/11 Memorial Blood Drive from 10 a.m. to 3 p.m. on Sept. 11. This marks the 18th consecutive year that Dover Motor Speedway and the Blood Bank of Delmarva have partnered for the event. Click here for more information.
American Legion Walter L. Fox Post 2
A 9/11 Remembrance Ceremony will be held at the American Legion Walter L. Fox Post 2 in Dover, De, located at 835 S. Bay Road. Contact Commander Lamark Bell for more information at 302 745-4197.
Stockings for Soldiers
Volunteer Delaware 50+ will be at Indian River Senior Center to kick off the Stockings for Soldiers collection on 9/11/23 from 11 AM to 1:30 PM.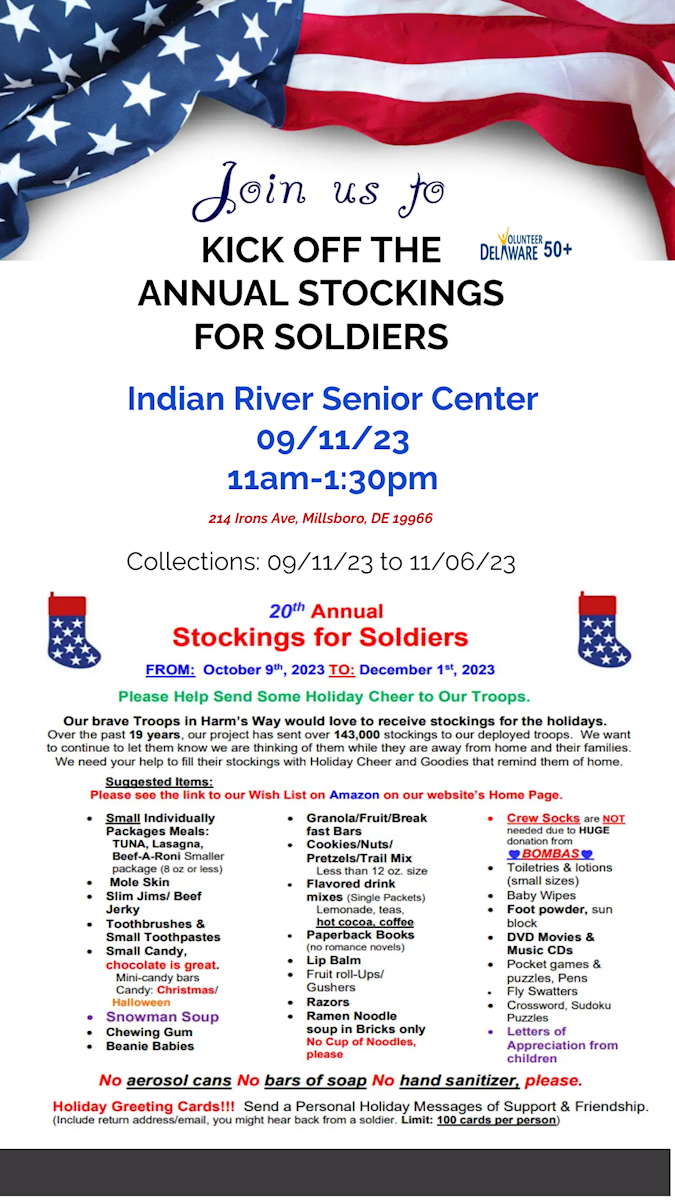 ---
| | |
| --- | --- |
| | |
| | |
| | |