The Volunteer Delaware Reserve Corps is a cooperative effort within the State Office of Volunteerism to create a corps of individuals who are available on short notice for urgent volunteer needs.

In order to join the Volunteer Delaware Reserve Corps, you must:
- Be at least 16 years of age
- Be willing to commit to one monthly check-in call
- Be willing to respond to at least one urgent need per year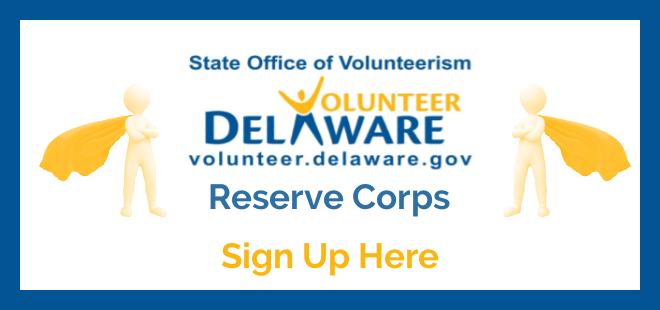 Reserve Corps volunteers will be the first in line to receive the call when volunteer needs arise in Delaware. This could include responding to local disasters, supporting COVID-19 vaccination efforts, or working with volunteer organizations in need of short term help. These opportunities will be short term and may arise with as little as 24-48 hours notice. There is no guarantee that by joining the Volunteer Delaware Reserve Corps you will receive a call to volunteer. Reserve Corps members are agreeing to be on stand-by and to respond quickly to their preferred method of communication. We understand that no one can be available at all times and registering does not imply a requirement to serve if/when the call comes. Corps members agree that they will respond to all communications as soon as possible, and that if they are unavailable more than three times without communication, they may be removed from the corps.
Within two business days of registration, a member of the Volunteer Delaware team will reach out to discuss next steps with you. We encourage you to also look at some of the long term volunteer opportunities available in emergency response with our partner organizations as listed below.
---
If you would like to volunteer for an emergency response organization on a regular basis, please explore these opportunities with our partner organizations